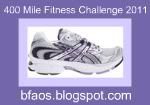 I am thinking of changing the name of my blog to "the 400 mile challenge update" For someone who doesn't have a lot going on in my life, I sure haven't spent any of my time writing. I have so many ideas that I would like to get written and posted, but unfortunately I love to daydream also, and that's what I do if I sit here and try to write.
First, I'd like to say
Thank you for the challenge Ellie.
I am staying at a steady pace and finding new ways to get my miles in. This week I jogged/walked on the Wii Fit a couple of times, but I spent most of the time walking back and forth in the yard as I battled the shed.
It is exciting to have pictures of that shed down. It seems that I haven't been such a slacker afterall. (smiles)
Here are my results:
Total this week =16.30 miles
Previous = 157.34 miles
New total for the year = 173.64 miles
I did have my camera handy..imagine that.
Is it bad to add ice cream to your oatmeal?






We had snow when the week started. This is at my sister's house "up the hill".




"up the hill" artwork
Mr Handsome came to visit.


HERE IS THE SHED AT THE BEGINNING OF THE WEEK.
THE SHED, AT THE END OF THE WEEK.
WE HAD TO BRING IT DOWN TO KEEP THE INSURANCE COMPANY HAPPY.
I HOPE YOU ARE ALL TAKING BITES OUT OF YOUR OWN CHALLENGES.
MY NEW GOAL IS TO POST SOMETHING ELSE ON MY BLOG BEFORE THE NEXT 400 MILE UPDATE.