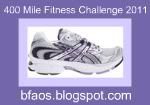 If you fell through a hole in the blog universe and landed on this page, you have found my update to the 400 mile Fitness Challenge. I have been participating for about 2 months and I am almost halfway to my goal. click the button above and join in.
My miles are steady on this challenge, and now I feel that it is time to kick it up a notch.The other day I did the Wii Fit Plus with my sister and we had a blast. I could tell it was a good workout, because of the way my body felt. When I see how my balance is improving, I get so excited, and plan on continuing. My sis gave me a Biggest Losers Wii game that she had and I did that today.
Today Bob Harper trained me.
Total this week = 17.18 miles
12 of these are from walking
The rest are workouts that I converted to miles.
Previous = 173.64 miles
New Total = 190.8 miles
This week we welcome SPRING to Omaha
I can't wait to see them tomorrow
~~~~~~~~~~~~~~~~~~~~~~~~~~~~~~