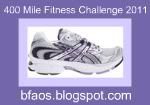 STILL GOING STRONG ON THE 400 MILE CHALLENGE
CLICK THE BUTTON ABOVE AND GET ALL OF THE INFORMATION
Thank you Ellie


~~~~~~~~~~~~~~
Here is my update:
15.60 miles this week
In the first 3 days I had only gone 1.5 miles, so I really "stepped" it up



previous was 113.4

MY NEW TOTAL = 129 miles
What did I see this week??
AND PEOPLE SAY THE BEACHES NEED CLEANING???
THEY CALL THIS THE "HI" TREE







THE BEAUTIFUL RAIN FOREST IN OUR ZOO
FEEDING TIME







PUSSY CAT







Thank you for stopping by.
How are you doing on your challenges?