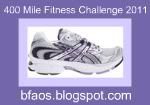 I cannot believe that it has been a week since I posted. This workout challenge was the reason that I started my blog, so I guess it makes sense that it is the thing that I update most often. I feel so far behind on everything, which is odd since I don't have anything that must be done.
The button above will take you to the main page to see how this challenge works and to see how everyone is doing.
Total this week =11.84 miles
Previous = 145.5 miles
New total for the year = 157.34 miles
This is what I saw when I did venture out this week.
The moon rising and the sun setting, at the same time


cousins bonding


THE BACK YARD MARCH 25TH




MY RICE AND BEANS FROM SCRATCH. SO GOOD !!!
GETTING THAT SHED DOWN...BEFORE THE SNOW HIT


THAT'S ALL I HAVE FOR THIS WEEK.