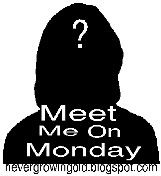 Welcome to the 35th edition of
"Meet Me On Monday!"
Blogging is a funny thing...we tell our most intimate thoughts for all to read and yet most of the time I find myself sitting and wondering, "who is this person!?" I know them...but yet I don't know them! I want to know who the person is behind all those words so I thought of a great way for all of us to "meet" each other!
Every Sunday Never Growing Old will post five get to know you questions that you can copy and paste into your own Monday post and we can all learn a little more about each and every one of us!!
CLICK THE BUTTON ABOVE IF YOU WANT TO JOIN IN.
NOW, ON WITH THE QUESTIONS....
Questions:
1. What are you wearing right now?
I am wearing a pair of shorts and a T-Shirt that I received for participating in the "The Great Visit Florida Beach Walk." It was held the day after I returned to Florida last November. Here is the link to my mile 54, and you can see all the submissions, representing each mile of Florida.
You aren't getting a picture of me in the shirt, because I am exhausted and have not washed my face yet. (written last night, before bed)
2. Do you have any freckles?
I have sun freckles in various places, but not a lot.
3. What is your favorite Lifesaver flavor?
My first thought was cherry, until I saw Java's answer. YUM!!! Butter rum !!

4. What is the last movie you saw in the theater?
Thanks to Happy Star (Hardees on facebook) I won a free ticket to see The Green Hornet 3D
MJ and I had the theater all to ourselves and we had a fun time. I talked him into NOT getting the 5 gallon bucket of popcorn, which saved me an extra trip to the treadmill.
5. Would you rather live without TV or without music?
Pulling my ear buds out of my ears before I answer this. GOOD-BYE TV, it was nice knowing you !!
I listen to music every chance I get. It keeps me moving when I am walking on the beach. A lot of times I have music playing in one ear while I am working on my laptop, even when the TV is on. Please, take my TV, but don't touch my music.
Thank you Java for continuing with this MeMe
---------------------------------
Your next !!