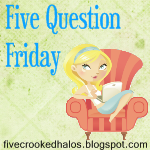 Click the button and join the fun.
Before I begin, I must say this...
"I am #151" (unless someone sneaks in before I post)
That is downright insanity people, and awesome at the same time.
The reason that I decided to join in this week was to get my brain out of the dizzy world of what I like to call Blah
BlahBlog
. I am in a writing slump and didn't know where to begin on my next post. These questions are just what I needed.
1.
Can you drive a stick shift?
Yes I can. My first husband tried to reach me and he failed miserably. In my opinion, you don't stop a car half-way up a 60 degree angle hill, stick a person in the drivers seat and say "ok...go!" After 3 days of trying it his way, I taught myself how to drive that stick shift while he was at work.
2.
What are two foods you just can't eat?
I wasn't sure if I could think of anything here and then I remembered last night. MJ brought me a vienna sausage. GROSS !! I did the whole plug your nose thing and I shoved it in my mouth. I started to chew it, but each mini bite brought me closer to spitting it out, so I just swallowed whatever was left in my mouth and chased it down with a few big gulps of water.
At the moment I can't think of another food, but I am sure there is something out there. I don't want my brain to wander off into blahblah land..so I am moving on.
3.
Do you buy Girl Scout Cookies? What is your favorite kind?
Thin Mints are my favorite. There is another kind that I have tried and liked. I had to run to SwagBucks to find out the name. They are called Caramel Delites aka Samoa.

THREE CHEERS FOR SWAGBUCKS !!
Even though I have a favorite kind, I rarely purchase Girl Scout cookies, because I am never asked. Isn't that crazy? It has been at least 5 years since anyone waved an order sheet in my face and asked me to buy cookies. My scale says thank you.
4.
How do you pamper yourself?
Drawing a blank here. These questions were supposed to help to stir my writing juices and they seem to be making me evaluate myself instead. (insert laughter) I used to soak in a nice hot bath, but those aren't quite as much fun now that the hot flashes have started. I have never had my nails done and have never craved it. I don't get my hair done, and I don't even get it trimmed as often as I should. (Last time was May 2010)
How about this...
I take MJ's $10 coupon for JCP that he gets in the mail monthly and I go shopping to see what is the best deal I can get. Wednesday the purchase was 80 cents for a pair of corduroys. That is how I pamper myself.
5.
What is your nickname and how did you get it?
Family calls me Roni (blech) I don't like it and I can't get them to stop. It is funny when I run into people on Facebook that I grew up with and they call me "Roni" when they make comments on my page. My twin brother is John, so "Roni and Johnny" was the plan. They never called him Johnny, but always called me Roni (they spell it Ronnie, I don't)
My second nickname is Rose. It came from a screen name that I have on AOL. People that have known me online for years started to call me Rosie, and that is how Rosie became a part of my blog name.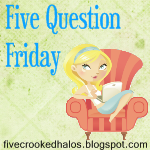 Now I get to read your answers. Until next time...