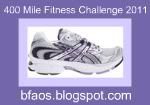 HAVE YOU JOINED THE 400 MILES IN 2011 CHALLENGE YET? CLICK THE LINK ABOVE AND YOU CAN JOIN. IT IS A GOOD BOOST AFTER THE LONG WINTER THAT MANY HAVE FACED.
The challenge will run from January 1st thru December 31st
The purpose is to reach the equivalent of 400 miles (at least) during the year, not a set number of miles a day.
----------------------------------------------------------
This weeks = 19 miles, mostly walking on the beach
Previous total = 60.7
TOTAL MILES SINCE I STARTED = 79.7
==================================
I made a few stops along the way
~~~~~~~~~~~~~~~~~~~~~~~~~~~~~~~~~~~~~~~~~~
ENJOY YOUR DAY...ONE STEP AT A TIME