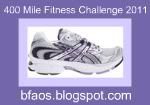 THE 400 MILE FITNESS CHALLENGE 2011
CLICK THE BUTTON ABOVE TO JOIN
Details:
The challenge will run from January 1st thru December 31st
The purpose is to reach the equivalent of 400 miles (at least) during the year, not a set number of miles a day.
Every Saturday starting 1/8/11, come back to Books, Fitness & Other Stuff and add the link to your update link in that weeks post. If you'd rather post an update every two weeks, that's fine too, but please visit a few participants every week and give them support.
Don't have a blog? That's ok. Just leave your progress update in the comment section of the Saturday post.
----------------------------------------------------------
This week = 12.7
Walking around neighborhood and treadmill 3 times this week
TOTAL MILES SINCE JAN 16th = 37.3
==================================
I made a few stops along the way.
Finally woke up early to see the sunrise, but it was cloudy
Fascinated by the big planes on base (swoon)
After the rain, these birds were on an eating frenzy
Trying to capture the raindrops
I found this vacant lot that has a vacant dock
This is taken while I trespassed




THANKS FOR STOPPING BY...HAVE A GREAT WEEK !!