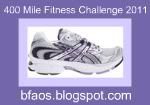 The challenge will run from January 1st thru December 31st
CLICK THE BUTTON ABOVE TO JOIN IN
The purpose is to reach the equivalent of 400 miles (at least) during the year, not a set number of miles a day.
----------------------------------------------------------
This weeks = 15.67 miles, mostly walking on the beach
One more week and I won't be on the beach for a few months.
Previous total =79.70
TOTAL MILES SINCE I STARTED = 95.33
==================================
I made a few stops along the way
~~~~~~~~~~~~~~~~~~~~~~~~~~~~~~~~~~~~~~~~~~
This is Sunday morning.
And this is Sunday night.





~~~~~~~~~~~~~~~~~~~~~~~~~~~~~~
YAY..I got a field trip to a belated Valentine's day dinner.
I took this as we were driving over the bridge into Destin.
I love the pretty sky.




I TOOK SOME OLD BREAD DOWN TO THE BEACH AND I TOSSED IT UP FOR THE BIRDS. I WAS
SURE
THAT THEY WOULD ATTACK ME AT ANY MOMENT.
I LOVE THIS PICTURE!!



THE BIRDS ARE ALWAYS POSING FOR ME





TOOK THIS WHEN I SNUCK INTO A DIFFERENT CONDO TO USE THEIR HOT-TUB SHHHH




SEE YOU NEXT WEEK FROM OMAHA !!!